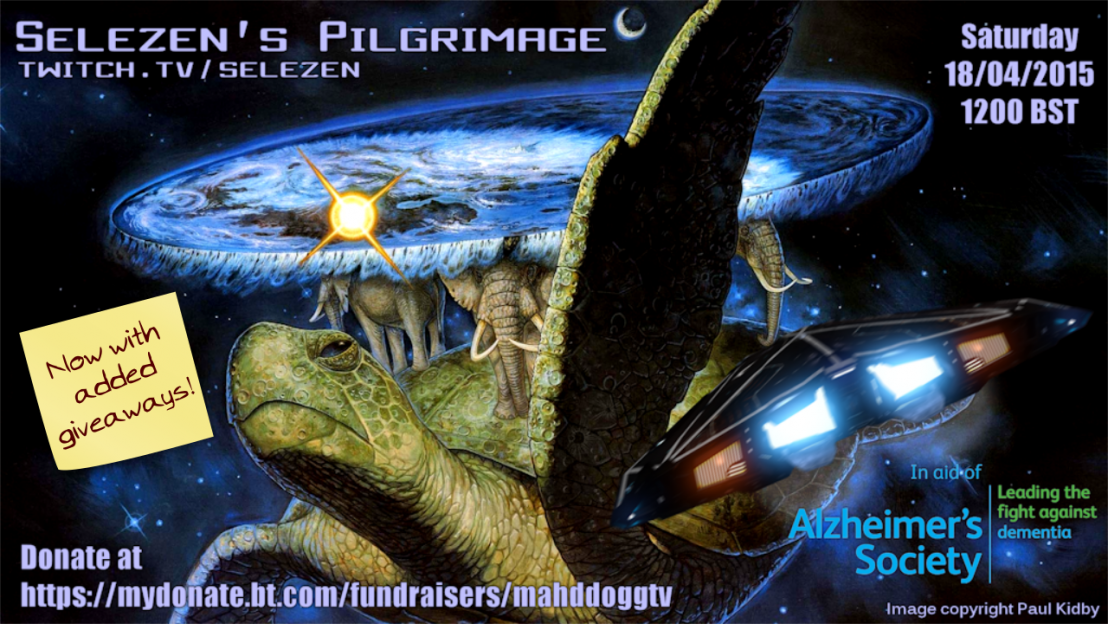 ---
The Terry Pratchett Pilgrimage
The Date: Saturday 18th April 2015
The Time: 12:00pm BST
The Place: Elite Dangerous
---
UPDATE: 10th April: Giveaways and other bits n bobs (click to read)
UPDATE: 19th April: It's all over - and what a ride it was! (click to read)
---
On 18-10-2015 I will be making a flight from the Morten-Marte system to Pratchett's Disk, the memorial world included in Elite Dangerous in memory of world-famous author Terry Pratchett after his passing on 12th March 2015.
Terry died as a result of Alzheimer's Disease, in particular early onset posterior cortical atrophy, which affected his ability to read and write - a real kick in the teeth for one who had such command of the written word. Terry referred to the disease as "the embuggerment" - a typically light-hearted label for something that scared the bejeezus out of him.
Such was Terry's influence, the world mourned his death and some of us wanted to do something to both celebrate his life and do something to help others with the disease and hopefully play some part in beating this embuggerment. A Twitch streaming Elite Dangerous player by the name of Mahd Dogg (twitch.tv/mahddogg) Set up a charity donation page and began a 12-hour Elite Dangerous marathon, calling on his viewers to donate to the Alzheimer's Society during and after the stream. This was the start of a month-long charity drive that will last until the 22nd April.
On the 18th I will play my part, and it will be an honour to be part of.
You see, I first discovered Terry Pratchett's work when I was 13 (or thereabouts). My school friend Martin handed me a box set of four books and told me to read them. They were The Colour of Magic, The Light Fantastic, Equal Rites and Mort. It was the start of a long, happy association with Terry Pratchett's books. I have read everything published by Terry, including the non-Discworld books, the mapps and so on. I own every Discworld book published. I re-read one or more of the books every year and can honestly state that I'm on my second copy of Mort, having read that one so often it fell apart.
Terry Pratchett is, without a doubt, my favourite author. That opinion is not likely to change with his passing, as his collected works will always be a pleasure to come back to and read again and again. I'm sad there will be no more, but I prefer to thank anyone who is listening, including Terry's spirit if it's there, for the joy and laughter he brought me for nearly 30 years.
So on the 18th I will fire up my Cobra, point it at whatever system Pratchett's Disk is in and I'll head off to see the world that's been named for him in the other 30-year old franchise that takes up the majority of my time. I'll be streaming the whole thing live on Twitch.tv. I don't know how long it will take and I don't know what we'll find on the way. I haven't been there before, so I don't know what to expect. And no, I don't want anyone to tell me. The joy of discovery is what makes me read a book for the first time, and this should reflect that. I don't even know if there's a space station there!
And I want YOU to join me for the trip!
You can join me in a few different ways. Watch the stream live at http://twitch.tv/selezen. If I can get things configured correctly I'll hopefully be running a couple of giveaways, so it's worth logging in and taking part in the chat too.
I'll be flying in a private group. If you want to join it, you can find it in-game by searching for "Selezen Lake". I'm sure you'll be able to find a way to interact with me during the trip! I might form up one of those new fangled "Wings" - if only because it shares a name with a Pratchett book!.
Again, depending on if I can get it working, I will be in Teamspeak. I've never used it before so will need some tuition before the big day.
Most importantly, if you're watching or taking part in the stream, it would be eight shades of awesome if you donated to Mahddogg's Alzheimer's Society donation page before, during or after the stream. Here's the full URL for the page:
https://mydonate.bt.com/fundraisers/mahddoggtv
Mahddogg and other notable names from the Elite Dangerous online community will be joining us in the chat, and I hope it's going to be a lot of fun as well as a small tribute to the lasting effect Terry Pratchett has had on my life.
Hope to see you all on the 18th.
Dave
---
I thought it would be a nice idea to follow the example of other charity-based streams (like Kateclick and MahdDogg) and see if there would be a chance to offer some giveaways during the Pilgrimage stream. So I got together a few Facebook Friends and asked them if they would be willing to donate something to the stream.
The response was, quite frankly, overwhelming! Once more the generosity of the Elite fan community (and the development team) is something to be applauded. The number of giveaways is honestly more than can probably be squeezed into the stream! We've got:
Fantastic Publishing Audio Books
Elite Archives postcards
Elite Dangerous galaxy map
VoiceAttack keys
"Written in the Stars": a short story by Drew Wagar
Elite Encounters PDFs
"Dockers" MUGs
Signed Norman Lovett pics
Scripts from Chris Jarvis' "Escape Velocity" audio series
and a SIGNED HARDBACK copy of "ELITE: LEGACY"!
How amazing is that!? Thanks to everyone who has donated - you are all stars.
If you want a chance to win one of these amazing "gifts" then join us all for the stream on Saturday 18th April. It starts at 12pm BST and the plan is for it to last about 4-6 hours. I'm not sure at this stage how long it will take to make the trip and do the giveaways and engage in general chatter along the way. I'm hoping to do at least one or two giveaway "slots" during each hour depending on what's going on!
That's it for now. Keep an eye on this page and on my facebook and Twitter pages (links below this post) for more news as it comes.
DH
---
Well, the stream is over and it was really quite fun!
Throughout the stream we picked up about 20 viewers, which is a personal best for my stream and a little landmark. We publicised the hell out of Elite Dangerous, the Alzheimer's Society and MahdDogg's charity events as well as having a fun trip 300 light years out from the RPG's home system.
The ever supportive CMDR Edorin joined me in my first ever wing on the way and since his Cobra had slightly less hyperspace range than mine he took on the role of Navigator and I linked up to his nav systems. It was a learning experience for both of us, since neither of us had done any of these things before. Thanks to the intervention of the people in twitch chat we managed to get the hang of it and headed out.
On the way we had some refuelling scares, a race to fully explore a system (Edorin won by a matter of SECONDS) and a few interdictions. Interdictions weren't a problem for Edorin, but my Cobra has no weapons and any interdictions had to be handled by showing a clean pair of heels and getting out of there!
When we got to the Pratchett's Disc system (the name of which I can never remember because it's one of those letter-number designations rather than a real name, I was pleased to see that the faction name for the system included the name of Ankh - very fitting. A couple of suns and a couple of planets populated the system, and they were marked as unexplored so we explored the system before heading to the Disc itself - an orbis station which was in the shadow of its parent planet when we arrived. All I could see was the red lighting around the torus, making the thing actually look like it was literally just a disc in orbit. It was quite the breathtaking moment.
Then we docked and landed, and the pilgrimage was over. I'd allocated about 4 hours to the trip and we managed to make it last just more than that, although we did get instructed by Mahddogg to drag it out a bit longer because we were about an hour ahead of schedule by the half-way point. I had expected to do more exploration along the way but Edorin was keen to preserve fuel as he had a smaller thank than me. Fair enough.
The whole thing is now sitting on Twitch's servers waiting to be uploaded to YouTube. I'll get right on that. The most important thing, though, is that the whole thing was in support of the Alzheimer's Society and in memory of Terry Pratchett. Donations were made during the stream and that's the important thing. Even one donation made because of my stream would have made the stream worthwhile, and more than one donation was made! So all in all I'm calling it a SUCCESS!