BACKGROUND AND LORE

Learn about the fascinating origins of the ELITE: DANGEROUS setting with content taken straight from the official background documents created to support the licensed authors and content creators working behind the scenes as the computer game was developed. Although the RPG is primarily set during the ELITE: DANGEROUS game's timeframe, around the beginning of the 3300s, ELITE ENCOUNTERS was always designed to allow players to experience all areas of the setting's history, and we've done our best to present a concise but detailed overview of the significant events and galactic politics through the centuries. Now YOU can find out how the galaxy evolved and the highs and lows of mankind's journey to the stars.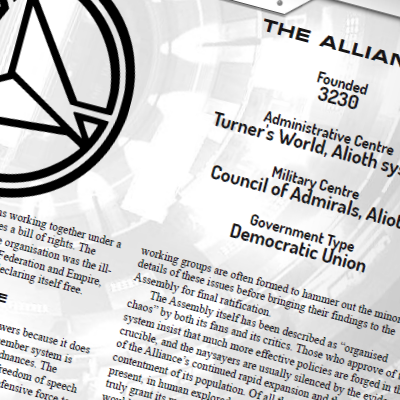 As well as the lore, we're giving you details on superpowers past and present, including the fan-favourite Galactic Co-operative of Worlds, as well as spotlighting a few player factions and minor powers from ELITE: DANGEROUS. Galactic society is discussed, as well as behind the scenes details on the machinations of big business and big politics. In short, we're confident that the background and lore presented in the RPG will be enough to give you loads of ideas for intrigue and adventure in your ELITE ENCOUNTERS game sessions.
But that's not all! We've included descriptions and details about technology, society, health and loads of other stuff that will add flavour to your games.
The section includes:
Over a thousand years of history!
Overviews of the superpowers past and present and their relations to each other.
Summary of military power across human space.
Religion, fashion and law in each superpower.
Introduction to the independent worlds and how they interact.
Brief introductions to a few select minor factions and player groups from the ELITE: DANGEROUS community!
Technology descriptions, including medicine, hyperdrives and power sources.