GALACTIC OVERVIEW

Find out about the wonders of the ELITE ENCOUNTERS galaxy! This section of the book contains essential information for players and Loremasters alike. Here you will find out about the different government types and the varied designs of settlements that exist in the ELITE: DANGEROUS setting.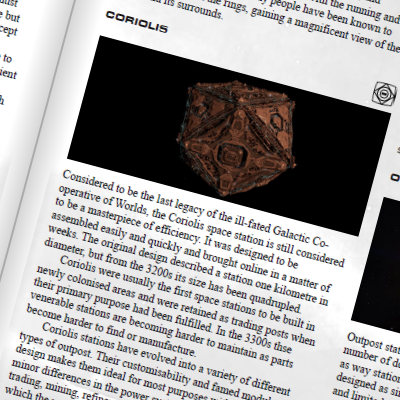 In addition to this, the book includes encounter tables that add depth and variety to your role-playing group's space travel, outlining what to expect from lawless systems and the likelihood of pirate attacks.
Most importantly for players who don't have access to the ELITE: DANGEROUS computer game, we've included maps and details for more than 60 star systems across the core of human space, giving new players a good choice of locations for their new adventures.
This section features:
Introduction to the colonies of humanity
Overview of the different settlement types
Random encounter tables and what to expect from each type of encounter
Maps of systems in five different regions of space!