VEHICLE COMBAT SYSTEM

Want to take your vehicle combat to the next level? Does the narrative mode lack that certain visual something? The the VCS is exactly what you need! Take the ELITE ENCOUNTERS vehicle combat rules to the next dimension with custom designed counters and detailed rules.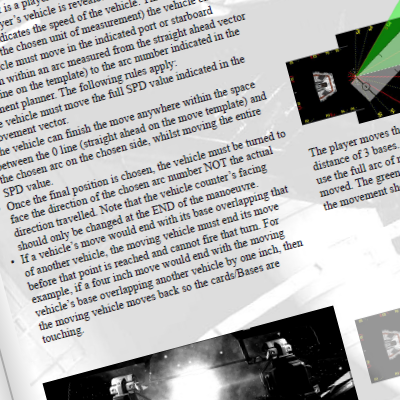 The Vehicle Combat Simulator has been designed in collaboration with fellow game designer Colin Ford to bring the engaging ship combat of ELITE: DANGEROUS out of the computer screen and onto your tabletop. Not only that, be we have expanded it to include other vehicle types in the rules, allowing you to pit different vehicles against each other. Ever wanted to see how a motorbike would fare against a Sidewinder? Now you can!
The VCS rules are supplied alongside all the bits and pieces you'll need to get started.
This section features:
Full colour spacecraft counters and Vehicle Information Cards featuring all the ELITE: DANGEROUS ships!*
Vehicle Records File sheets to record your vehicle's stats.
Handy "cardlet" system to display information about stock equipment and useful information.
Instructions how to convert your character or group's stats for use in the simulator.
* complete at time of publication.